Home
---
Bed and Breakfast in central France
Welcome!
In the village of Marboué (Eure et Loir), close to Châteaudun (1h30 away from Paris), please be welcome at our Bed & Breakfast on the Loir river banks, in a beautiful and oh-so-french countryside setting.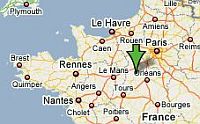 Week-end escapades, longer term stayovers, vacation, enjoy our rooms in a beautiful mansion located on the site of an old river mill, fully renovated in 2009.
The warm welcome of exclusive french hospitality, both simple and delicate.
Go boating, hike the countryside or ride bicycles around, tour the area (vicinity of Chartres cathedral and the Loire River castles), or simply relax by the Loir river. Your hosts will advise you and help you put together the program of your dreams.
Open April 1st through October 31st but exceptionally closed in August 2017



Our guest rooms quality amenities and welcome have earned the "Charme 3 épis" label.
In addition to these labeled guest rooms, we also offer